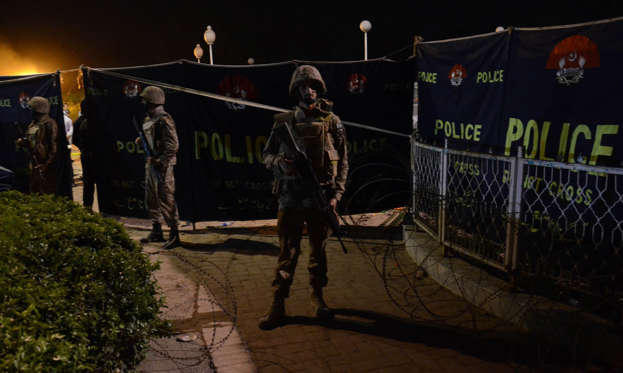 Hello Readers,
I have made a number of evangelical friends in Lahore Pakistan over the past five years. Most of the victims of this attack were women and children.
I have been praying for them and I ask that you pray for them, too. They are suffering persecution after years of protection.
Many Christians in Lahore talk freely of tracing their faith which started when the Apostle Thomas came and preached to them. Tradition also tells us that Thomas was active in India. I have spoken to a significant number of evangelical Christians in Pakistan and they for the most part mention Thomas and his preaching the gospel in 50-100 A.D. We do know that Christ's original apostles were certified witnesses of the resurrection. All of them are believed have been martyrs for the faith.
Please read
about the present situation below and you can keep updated by going to the Voice
of Martyrs website. Please read the newspaper account about a suicide which killed many
innocent people.
LA
HORE/ISLAMABAD, P
akistan, March 27, 2016 (Reuters) - A suicide bomber killed at least 65 people, mostly women and children, at a park in Lahore on Sunday in an attack claimed by a Pakistani Taliban faction which said it had targeted Christians.More than 300 other people were wounded, officials said.
The explosion occurred in the parking area of Gulshan-e-Iqbal Park close to children's swings. The park is a popular site for members of Lahore's Christian community, many of whom had gone there to celebrate the Easter weekend holiday.
Witnesses said they
saw body parts strewn across the parking lot once the dust had settled after the blast.
"When the blast occurred, the flames were so high they reached above the trees and I saw bodies flying in the air," said Hasan Imran, 30, a resident who had gone to Gulshan-e-Iqbal Park for a walk.
Officials said 65 people were killed and about 300 wounded. Police Superintendant Mustansar Feroz said most of the casualities were women and children.
The Taliban faction
Jamaat-ul-Ahrar claimed responsibility for the attack.
"The target was Christians," a spokesman for the faction, Ehsanullah Ehsan, said. "We want to send this message to Prime Minister Nawaz Sharif that we have entered Lahore."
"He can do what he wants but he won't be able to stop us. Our suicide bombers will continue these attacks."
Islamist militants in Pakistan have attacked Christians and other religious minorities often over the past decade. Many Christians accuse the government of doing little to protect them, saying politicians are quick to offer condolences after an attack but slow to take any concrete steps to improve security.
TOLL MAY CLIMB
Salman Rafique
, a health adviser for the Punjab provincial government, said many of the wounded were undergoing emergency surgery in hospitals."We fear that the death toll may climb considerably," he said.
http://www.msn.com/en-us/news/world/suicide-bomber-targeting-christians-kills-65-mostly-women-and-children-in-pakistan-park/ar-BBqZHXf?li=BBnb7Kz&ocid=u147dhp