Please pray for the persecuted Christians mentioned below. Thanks, Steve Bloem
Our great example the Apostle Paul.
A
re they servants of Christ? I am a better one—I am talking like a madman—with far greater labors, far more imprisonments, with countless beatings, and often near death. Five times I received at the hands of the Jews the forty lashes less one. Three times I was beaten with rods. Once I was stoned.
Three times I was shipwrecked; a night and a day I was adrift at sea; on frequent journeys, in danger from rivers, danger from robbers, danger from my own people, danger from Gentiles, danger in the city, danger in the wilderness, danger at sea, danger from false brothers; in toil and hardship, through many a sleepless night, in hunger and thirst, often without food, in cold and exposure. Remember child of God. The world and the devil hate you but our Lord Jesus Christ is concerned about every hair on your head. He numbers them all. He is at the right hand of God and intercedes for you before Father's throne. He will not fail nor be discouraged. He is more than able to strengthen you in your hour of trial and need..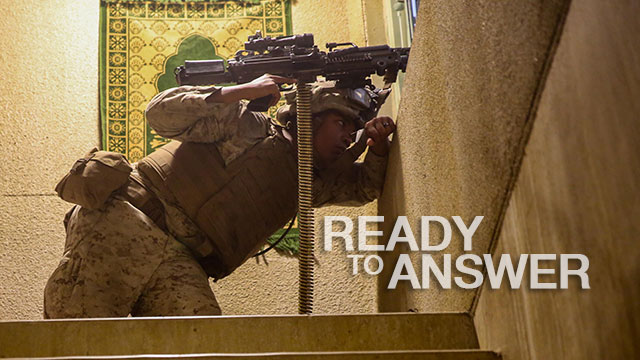 Tuesday, October 13th, 2015
As previously reported, in September the Military Religious Freedom Foundation issued a complaint regarding a sign reading, "God Bless the Military," on a Hawaii Marine Corps base. The group stated that the presence of the sign is unconstitutional and demanded that it either be removed entirely or relocated to the chapel. However, along with the support of Alliance Defending Freedom, the commanding officer of the base recently responded to the complaint, stating that they refused to remove or relocat2e the sign.
Be ready America! Persecution is already here - Voice of Martyrs, October 13, 2015.
1
Peter 3:11-15 (NASB) "HE MUST TURN AWAY FROM EVIL AND DO GOOD; HE MUST SEEK PEACE AND PURSUE IT. "FOR THE EYES OF THE LORD ARE TOWARD THE RIGHTEOUS, AND HIS EARS ATTEND TO THEIR PRAYER, BUT THE FACE OF THE LORD IS AGAINST THOSE WHO DO EVIL."Who is there to harm you if you prove zealous for what is good? But even if you should suffer for the sake of righteousness, you are blessed. AND DO NOT FEAR THEIR INTIMIDATION, AND DO NOT BE TROUBLED, but sanctify Christ as Lord in your hearts, always being ready to make a defense to everyone who asks you to give an account for the hope that is in you, yet with gentleness and reverence.
heartfeltmin.org