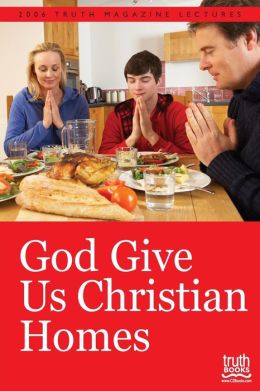 Oh give us homes built firm upon the Saviour,
Where Christ is Head, and Counselor and Guide;
Where ev'ry child is taught His love and favor
And gives his heart to Christ, the crucified:
How sweet to know that tho' his footsteps waver
His faithful Lord is walking by his side!

O give us homes with godly fathers, mothers,
Who always place their hope and trust in Him;
Whose tender patience turmoil never bothers,
Whose calm and courage trouble cannot dim;
A home where each finds joy in serving others,
And love still shines, tho' days be dark and grim.

O give us homes where Christ is Lord and Master,
The Bible read, the precious hymns still sung;
Where prayer comes first in peace or in disaster,
And praise is natural speech to ev'ry tongue;
Where mountains move before a faith that's vaster,
And Christ sufficient is for old and young.

O Lord, our God, our homes are Thine forever!
We trust to Thee their problems, toil, and care;
Their bonds of love no enemy can sever
If Thou art always Lord and Master there:
Be Thou the center of our least endeavor:
Be Thou our Guest, our hearts and homes to share.
https://www.youtube.com/watch?v=sF_rhAbs1mU
Please read our book, Broken Minds Hope for Healing When You Feel Like You're Losing It.
Without Christ, Robyn and I could have never survived my depression and the death of our daughter, Lindsay Ruth. We were able to do so because Christ has always been the Rock on which our marriage has been built. One way that you can support our ministry is to order our book directly from us at cost minus tax.
Review of Broken Minds
I have a personal interest in Steven and Robyn Bloem's book because I too am a pastor 'on pills.' My depression remained undiagnosed from the age of twenty until the age of fifty. That was largely because I put my cyclic low periods down to fatigue and refused to seek medical help. I was greatly helped, however, by the elders and members of Little Hill Church near Leicester, where I was pastor for 15 years. They had the right ideas about clinical depression being organic in origin and eventually prevailed on me to seek appropriate help. . . .These spells I now recognise as being good for me, 'thorns in the flesh' keeping me from being over-elated or arrogant (2 Corinthians 12: 7). I also find that my personal experience of clinical depression has brought me two other benefits as a pastor; it has taught me to rely more on the God who is able to raise the dead and has given me a great sympathy for, and understanding of, those who suffer from depression (2 Corinthians 1: 3-11). -- David Gregson evangelical-times.org (09/01/2006)
We pay the sales tax. Please go to our website, http://www.heartfeltmin.org/#!events/c15sx